ACE CLASSICS LONDON | TIGER PARTS UK | PRE UNIT TRIUMPH PARTS SPECIALIST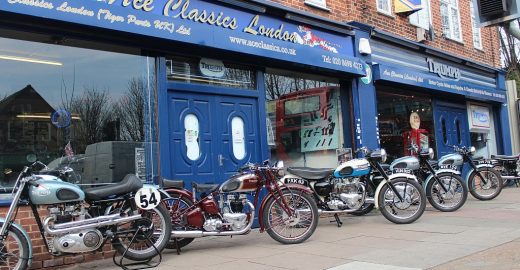 It all started back in 1991 Cliff Rushworth always had a dream to own his own motorcycle shop, as a young man Cliff always rode Pre Unit Triumph's and always found it very hard to find parts that fitted.
Cliff's dream was to make Triumph parts that would fit as the originals did, in the early day's pattern parts were of a very poor quality. Ace Classics started to make parts that fitted, this was our advertising slogan in the early days PARTS THAT FIT!!!
Starting with a dream – no money no bikes no inventory of parts it wasn't easy. However, when you are doing something you love it makes it a lot easier.
Something you may not know is that in the early years Ace Classics was only open 2 days a week this was because Cliff was an Asphalt roofer by day and used to come in the shop and pack the orders late at night!! In fact it has only been in the last 3 or 4 years that Cliff came out of the roofing and has come in the shop full time. How many other people do you know go out for a real hard day out roofing then pack parts orders though out the night for 20 years?
The reason cliff worked so hard all of these years was because he has a real passion for Pre Unit Triumph's and the more that we can keep on the road the better.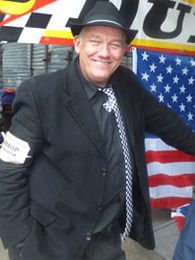 Cliff's son Kev Rushworth came to work at Ace Classics straight after leaving school at 16 even before Kev left school he would spend any spare time in helping out with parcels and sweeping up or cleaning the bikes Kev was always around Pre Unit Triumph's even before Ace Classics started from a very early age being around the Pre Unit Triumph's all of his life he has gained a lot of knowledge.
Cliff and Kev now work as a team together to make and supply the parts worldwide, our range of parts is growing all the time, if you have a parts book for your bike from 1938 – 1962 we can supply almost every part for you whole bike whether it might be a nut or bolt or even a mudguard. As well as Pre – Unit Triumph parts we can also supply parts for some of the Unit models Mudguards – chain guards – number plates and many of the Pre Unit nuts and bolts interchange so always give us a call you never know what we might have
We offer a wide range of services from parts to workshop repairs to wheel building also a paintwork service we match the coulors to our range of new old stock tanks cliff has collected over the years.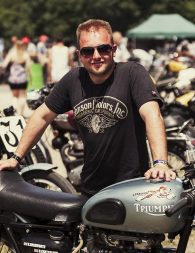 Since 1991 a lot has changed here at Ace Classics, November 2012 we open our new show room right next door to our existing premises this gave us plenty more space a proper work shop and a nice show room for bikes for sale also we have lots of rare machines on display for our customers to view all year round we even have The works Triumph GP here on display ridden by Bob Foster in 1949
One thing that hasn't changed since 1991 our passion for Pre Unit Triumph's is as strong as ever!! We are out ridding these bikes and enjoying them all the time. We love what we do here at Ace Classics and hope to keep supplying parts for many more years to come
Based in Lee, London we are able to utilize all National and International transport networks which means we have a full range of delivery services available.
Visit our new products section for an overview of what we have to offer and contact us today.
Ewan Burgess
Ewan has worked with us since 2016 he's a great young guy that loves the old stuff just as much as we do, he drives to work in a Vauxhall Viva and owns a BSA A7 plunger. Ewan is a very good mechanic and takes on most of our work load in the workshop apart from the restorations.
The sort or work Ewan does here, at Ace Classics, would be anything from a minor service to a top end rebuild or his favourite work is transforming a standard bike into a cool old Desert Sled McQueen Style bike.
Ewen was featured on a BBC Bitsize web page:
How to become a motorbike mechanic: Ewan's story